Post by fancollector12 on Mar 21, 2016 23:29:57 GMT -5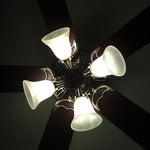 -Last year a seafood place opened up where an old bar/restaurant used to be. The old bar/restaurant had 4 white Hampton Bay Palm Beaches on the outdoor porch area with matching light kits. They're still there with the new seafood restaurant, but the new place hasn't ever turned them on. They're a bit rusted, too.
-The Greene Turtle, which is a sports bar and grill chain opened a location in my local mall. The main dining ares and bar have nickel 60" Hampton Bay Industrials. The controls are wired incorrectly (1 is high speed and 4 is low speed). In the screened porch area there are 4 bronze Hampton Bay Farmingtons that are hardly ever on.
-There's an irish restaurant near me, and when you walk in you enter the main bar. There is a system of I think Woollen Mill belt-driven fans that are propelled by a motor on the wall, which is held up by a bracket formed to look like a human fist, which is weird, yet looks nice. The belts are messed up from years of use and no maintenance. In the back dining room and secondary bar, there are 4 pewter Craftmade Presidential II's with hand-carved wooden blades. 2 of those fans have messed up blades possibly from people throwing stuff into them. They're all controlled by wall switches, and are set on medium speed by the pull chains. The private party room and bar, which also functions as a third dining room, has 4 Hunter Adriondacks.
-There used to be a Joe's Crab Shack near me (I may have posted about it earlier in this thread). They had some Matthews Fan Company/Atlas Fan Company 3 round-bladed wall-mounted fans (Melody, I think, is the model name) in nickel, with the 4-speed wall controls mounted directly below each fan. There were also some larger wall-mounted industrial fans (which I think are Daytons) in the enclosed porch area. Joe's decided to close this location, and a local brewery and restaurant took its place. The place hardly remodeled (they used the buckets for the scrap crab shells at Joe's Crab Shack to hold the condiments at each table, for example), and all of the fans remain. I've never seen any of the fans turned on.
-There's a restaurant and bar near me that has 4 or 5 Hampton Bay Delanos in the main dining room. The place changed ownership and remodeled, but I believe they still kept the fans.
-There's a pizza place/sports bar near me that just opened called Boston's. The only fans are outside on the patio, which hasn't opened yet since they just opened in the winter. They have 4 Regency or Kendal Lighting fans that have an uplight and the 4 odd-shaped blades are mounted directly to the bottoms of the fans. I haven't yet seen them on.
-There was a Red Lobster near me (I may have posted about this in this thread before) that had 4 early 2000s black Hunter Santa Barbaras in the bar. They recently remodeled, and the fans were removed.
They re-tiled where the fans used to hang.
-There's a Jimmy John's in my local mall that has a single black Haiku fan in the front entrance. It's always on, and it's the only fan in the place.
-There was a cafe that closed that had 4 bronze Harbor Breeze Builder's Bests/Classic Styles installed on those weird recessed light-to-fan conversion kits. A bar opened up in its place and installed some modern-looking Hampton Bay or Harbor Breeze things in their place.
-There was an Italian restaurant near me that had 42" Broan Europas in white with schoolhouse light kits in the main dining areas and party room, and 4 56" white Canarm industrials in the bar. The place remodeled and renamed themselves (but still kept the same ownership). The place became a sports bar and restaurant, and the Europas got replaced by bronze Hampton Bay Glendales. The bar expanded and relocated the ceiling boxes, so now there are 8 52" bronze Harbor Breeze Tilghmans with matching light kits in place of the industrials.
-There's a restaurant near me styled after a ski lodge. They have a separate outdoor dining area, and in that area there are several bronze Hampton Bay Metros or Minka Aire Rainmans. There are also several wall-mounted misting fans around that area.
That's all I can think of for now!
They're not wired incorrectly. If anything incorrect, they would be wired backwards, in which case the speed 1 is still like on/off switch turned on. 1 IS supposed to be high and 4 IS supposed to be low.
Uh, I'm pretty sure I know what I'm talking about.